Above & Beyond Ballooning offers hot air balloon rides in New Jersey and Pennsylvania. Our main hot air balloon flight location in picturesque Readington, NJ is conveniently located just one hour west of New York City and about an hour from Philadelphia. We are the closest hot air balloon company to NYC and Long Island.
Our hot air balloon rides in Pennsylvania are located approximately 45 minutes west of Philadelphia in the rolling hills of scenic Chester County. We operate our hot air balloons in NJ & PA seven days a week, with balloon flights scheduled twice daily, weather permitting. Our hot air balloon flying season is during the summer months of good weather from June through September.
Special Hot Air Balloon Adventure Flights over New York City and other exclusive locations are available for a premium. We are the only balloon company in the world to offer hot air balloon adventure flights above NYC.
NJ & PA Hot Air Balloon Ride information


Booking a Hot Air
Balloon Ride Online?
BEWARE!
You may be in for a ride
you never bargained for

---
2014 Balloon Festivals We're Attending
(You can make direct reservations to fly with us at some of these events - give us a call or click "book now" below!)
May 16-18

Experimental Balloon & Airship Meet

Post Mills, VT

May 24-26

Rio Grande Classic / New Mexico State Hot Air Balloon Championship

Albuquerque, NM

June 20-22

Saratoga Balloon & Craft Festival
Saratoga, NY

Saratoga, NY

July 25-27

Quick Chek New Jersey Festival of Ballooning

Readington, NJ

July 28-31

Warren County Farmers' Fair Balloon Festival
Harmony, NJ

Harmony, NJ

Aug 1-3

Spiedie Fest & Balloon Rally
Binghamton, NY

Binghamton, NY

Aug 1-3

Spiedie Fest & Balloon Rally
Binghamton, NY

Binghamton, NY

Aug 28 - Sept 1

Festival de Montgolfières de Gatineau
Gatineau, Quebec, Canada

Canada

Sep 9-17

Turkey Balloon Fiesta

Izmir, Turkey

Oct 4-12

Albuquerque International Balloon Fiesta

Albuquerque, NM
To view a complete list of past balloon festivals we've attended, click here.
---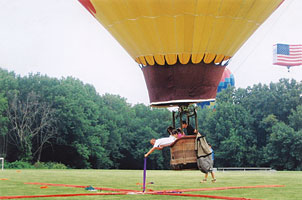 Jon Radowski makes a perfect 0'0" score on the Saturday morning target at the 2005 Quick Chek NJ Festival of Ballooning!

Photo credit: Sharon Englehart
---
Corporate Hot Air Balloon & Airship Advertising: Capture the eyes of your target audience with the effectiveness of hot air balloon & airship advertising

Photo Gallery: Hundreds of high-quality hot air balloon Pictures from local New Jersey balloon rides and special events around the USA. We update our gallery very frequently, so check back often for new hot air balloon photos!
Ballooning Basics: Who, What, When, Where, Why, How... Anything you ever wanted to know about hot air ballooning in NJ but couldn't find anyone to ask! Frequently Asked Questions and much more about hot air balloons.
Get Involved: Become a hot air balloon ground crew member and possibly earn a free ride!
History Lesson: Find out how hot air ballooning came to existence with a brief history of the sport.
Geography: Don't know where the action is? Click here to find out when and where hot air balloons fly in New Jersey!
Balloon Links: An assortment of quality links devoted to ballooning in New Jersey and other related subjects.
Join The Club! GEBA is the Great Eastern Balloon Association, and is a great club to be involved in. Visit their site to see why you should join. There are a number of other features on their website, including a hot air balloon festival and event calendar, great photo gallery, hot air balloon ride directory and much more.
Have a nice flight!
I hope this website proves informative and spurs your interest in the amazing world of ballooning. Join us up there sometime for a hot air balloon ride!
Good luck,




Jon Radowski
Pilot In Command, NJHotair.com
For Hot Air Balloon Rides in New Jersey & Pennsylvania,
Please Call Us At:
1-844-9-HOT-AIR

Most recently updated August 6, 2016